This past month, Shopify hired former Yeezy exec Jon Wexler and if you're a sneakerhead you've probably heard of this news already. That's because Jon is a god in the sneaker community and was hired in a role to lead the artist and creator side of their business. Shopify wants Jon to recreate what he did with Kanye across creators in every category and it's not just sneakers. This move confirms how Shopify is thinking long term about their role in the creator economy and furthers the shift to creator independence, ultimately enabling creators to engage their communities in different ways
Shopify's Distributed Approach
Shopify doesn't have a marketplace like Amazon. They rely on what they call "sales channels" to help grow sales for their merchants. Sales channels are connection layers with networks such as Instagram, Google Shopping, Pinterest, and more. Shopify is incredibly focused on building the best tools for e-commerce, not awareness. Their acquisition focus on infrastructure, talent, and tools such as 6 River Systems show that their strategy is in the crosshairs of supporting makers, creators, and entrepreneurs. Similar to publishing, e-commerce is being unpacked. BuzzFeed was one of the first to embrace the distributed ecosystem of tech platforms by building content-specific channels and fueling the mothership by boosting posts.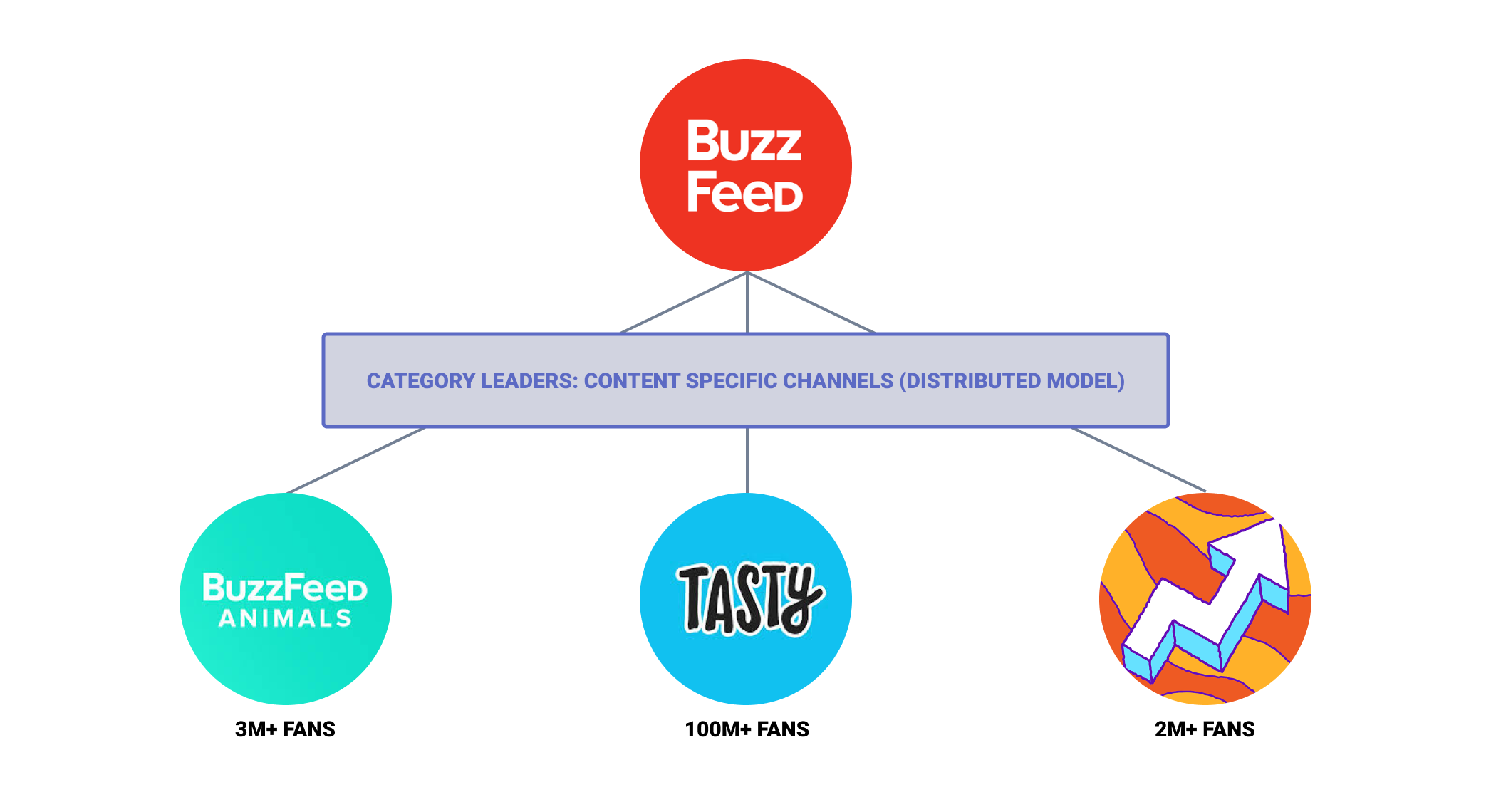 Publishing has become more distributed, personal & democratized, giving rise to a new class of "independent publisher". This idea looks like this: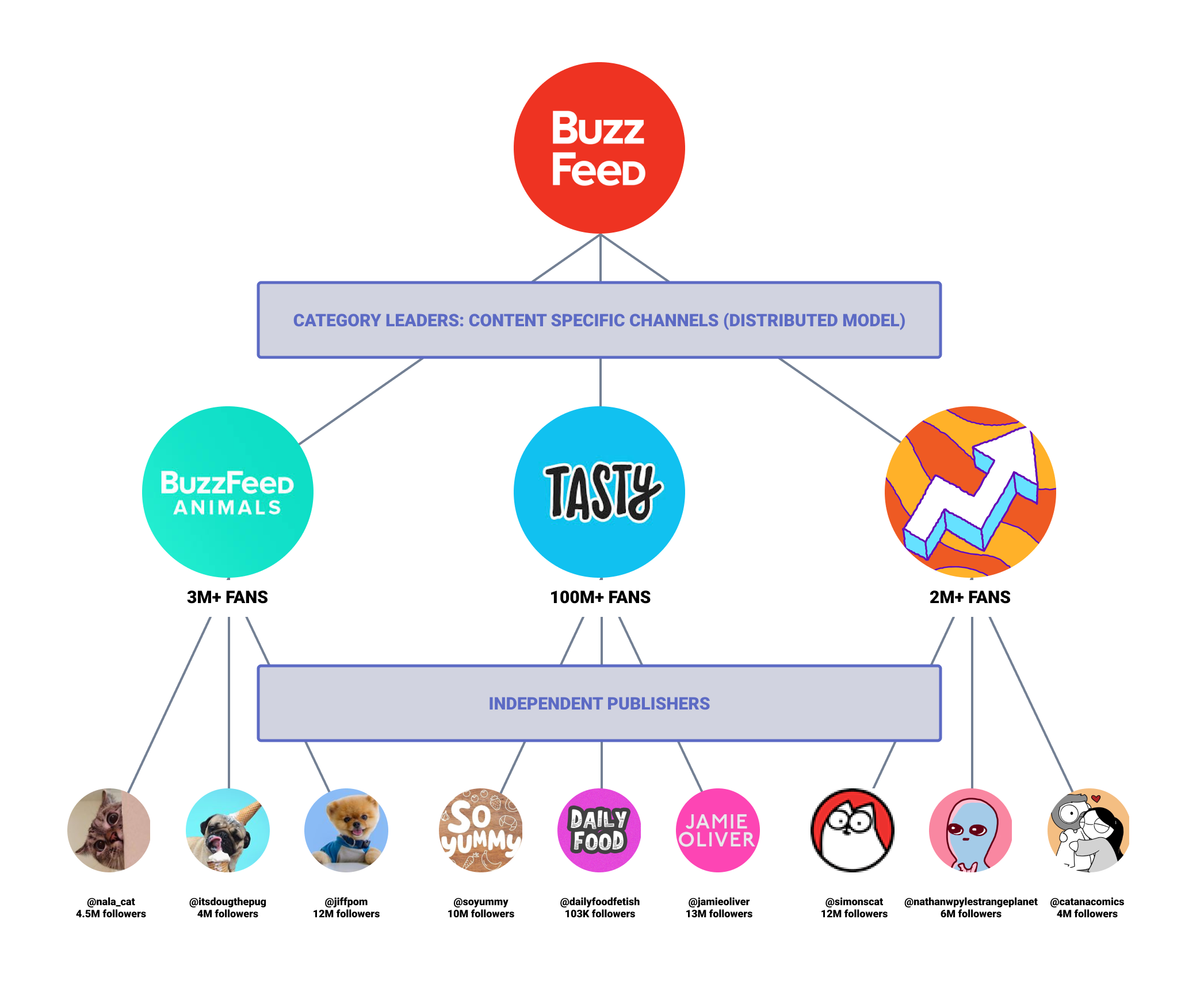 That's the same as what's happening with commerce. Creators are building their presence on YouTube, Twitter, Instagram, and more. Then they are building out their business models by selling branded products that coincide with their philosophies. For the most part, here are the steps entrepreneurs follow today if they're going to start an e-commerce business: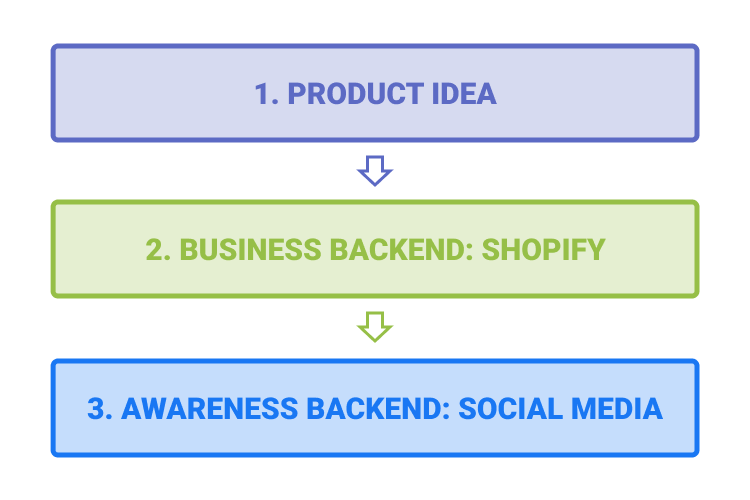 Entrepreneurs generally have an idea and spend time and money to create an audience on social media because that's where people spend their time. However, Shopify has a lot of room to grow especially with people like Jon at the helm. More businesses will start to look like this: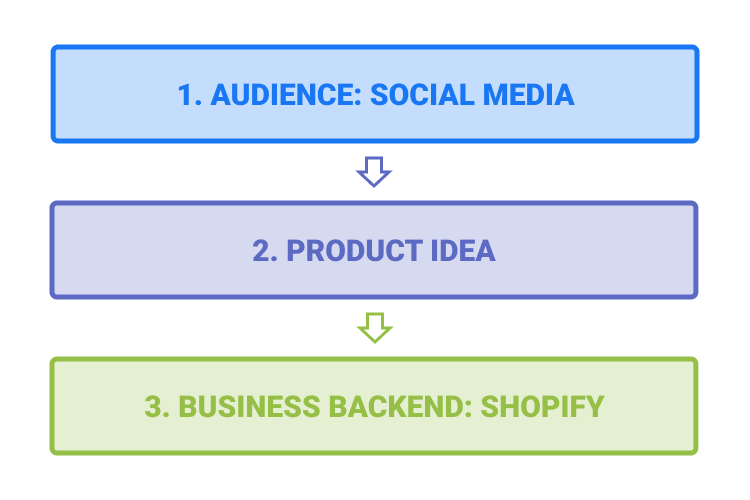 There are a lot of creators that have devout audiences on social media, but no control over those customers. For example, if you have 1M+ followers on Instagram or Twitch, Facebook and Amazon don't allow you to download followers' emails. That equation will shift to support more entrepreneurs with tools like Shopify at their disposal.
Creator Brands
Creators have been building brands for many years now, but we are about to witness an explosion in these types of businesses. Here is a list of some of the largest creator stores on Shopify:
These are big celebrity stores, but we will witness more stores built by smaller, more niche creators over time. Internet communities are becoming so specialized that creators with only 100 true fans will be able to create a sustainable wage.
What's Next?
Expect Shopify to continue their mission of empowering entrepreneurs and don't be surprised if you see every creator you follow launch a store within the next 1-2 years. More agencies will pop up to support this as well. Big dogs like Universal Music Group have already started, but the real opportunity will be around supporting Shopify as a platform. Building tools and apps will help foster this ecosystem and there will be a unique opportunity to ride the wave. Sound familiar? Apple provided a unique economic opportunity to developers in the same way when the app store first launched. Overnight it seemed like a new billion-dollar company was minted. Shopify wants to make it easier for merchants and consumers will always want to purchase. There are so many opportunities in augmented reality to visualize products, shipping logistics, and cost savings, last-mile delivery, marketing automation, modern inventory management, storage solutions, and more.
One area we expect Shopify to invest more in is dropshipping and product pairing. At Dovetale, we surveyed creators asking them what they would sell other than general merchandise and most simply don't know. Merchandise is a great way for large creators to make money, but smaller creators don't have the same scale and therefore have to show more value. There has to be a specific brand and product alignment. We think Shopify can fill this gap for a lot of creators and educate more makers. Our long term bet is around creators pairing with local makers to forge new partnerships, licensing deals, and other unique entrepreneurial deals. There are so many skilled makers in the world that could combine their crafts with independent publishers. For example, forging Damascus chef's knives- there are a lot of skilled blacksmiths that don't want to (nor would they be good at) being on camera. However, there are so many skilled chefs on YouTube that would equally love to figure out a business deal with someone like this because their audience would love the product. I'm not talking about influencer marketing, I'm talking about a real partnership: cofounders, shareholders, and or licensing agreements. Could Shopify create a product like Atlas for this type of thing? Could they expedite the legal costs and make a cookie-cutter experience for these kinds of partnerships?