When it comes to influencer compensation everyone seems to have a different opinion. Simply, there isn't a standard way to measure performance in influencer marketing, so the compensation structures are all over the place. Some marketing teams stand by paying Snapchat influencer $10 per 1,000 followers for example or 10 cents per like on Instagram. Almost every agency we've talked to has a metric like this that they use as a benchmark. We'll breakdown why this isn't necessarily the best way to value an influencer's participation in your campaign alongside proper compensation strategies.
Before reaching out to potential partners, you'll need to breakdown some simple questions:
What are your goals? Revenue? Brand exposure? Followers? You will want to clearly write it out and log metrics in a spreadsheet or planning document.
What are your long term objectives and budgets? Do you have the money to engage high performers on a long-term basis or is this a one-time activation?
Do you want to engage in affiliate marketing? Are you set up to properly track it?
Are your partners expected to travel?
Do they need to rent a studio?
What kind of equipment do they need for content creation?
How long will it take for influencers to produce the content you are asking for?
One misconception about influencers and creators is that you're just paying for the distribution. Teams that assume this pay a competitive CPM rate, but don't factor in the production costs. Most of the time it ends up tarnishing the relationship or setting up the conversation on the wrong foot. Another point in reference to some common pricing methods per follower count is to remember that when an influencer posts, they won't hit 100% of their followers. Often times, it's only around 30%. So, if someone has 1,000 followers, you'll likely only capture the attention of 300 people.
Types of Compensation
Affiliate Marketing
Merchants selling via e-commerce have a unique opportunity to create a win-win scenario by offering competitive affiliate commissions. One place to start is with Amazon's standard commission rates.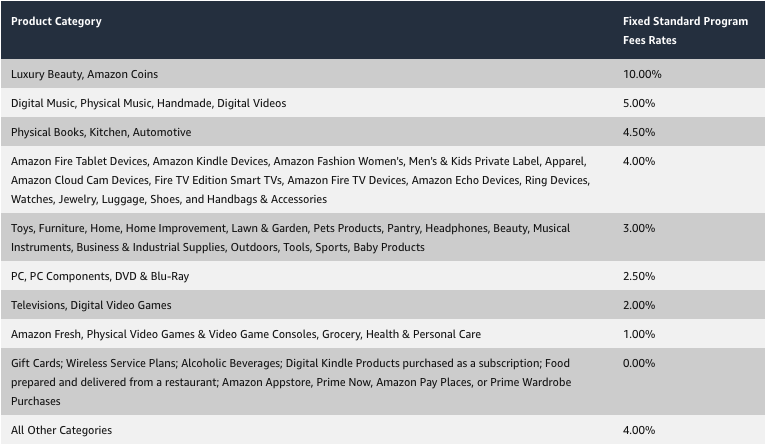 Of course, Amazon has a scale and can bring their affiliate commissions down a lot. For merchants on Shopify, the average is around 10-15% in commissions offered to influencers.
We would recommend building a financial model that includes your production costs, shipping, and time to coordinate your affiliates. A popular way to compensation affiliates is to also provide a weekly/ biweekly stipend to continue incentivizing influencers to sell your product. Most times influencers will promote your products heavily in the first 2 weeks, but fatigue will deprioritize your offer. For example, if you pay them a nominal fee every 2 weeks you're indicating that if they stop posting for you, you won't pay them. Most partners love this relationship because it guarantees them revenue.
Endorsements
If you're planning on negotiating a long-term endorsement contract, we would also recommend involving an entertainment lawyer. Most long term contracts involve celebrities, agents, and premium rates. Companies like Daniel Wellington have done this with Kylie Jenner and Hayley Baldwin among others showcasing them in billboard ads, subway ads, and on their digital assets. When pricing out these types of relationships it's tough to predict longevity so it's best to model out the best and worst-case scenarios. What would happen if the public reacted negatively to your endorsement relationship? Could you recover? Do you have the budget? Building a risk model that outlines the best-case scenario can also be helpful when determining your budget. Making decisions quickly when engagement in long term will likely result in non-ideal results so be sure to measure your risk and weigh all paths. You'll feel like a financial analyst and PR exec at the same time, but your preparation will be worth it. Lastly, it's best to experiment with smaller influencers/ celebrities before making a big bet.
One Time Activations
While we don't recommend exclusive short term relationships, it can be highly effective for teams running contests, discounts, promotions, and those trying to boost social presence.
Contests
Contents often involve multiple influencers, so your financial model should outline their costs, the prize costs, and the predicted return. Good products that run contests generally produce a positive ROI, so you should aim to run a profit on your campaign. If you're selling a product, that means your influencer budget and prize costs should be less than your expected sales return. If you're running an awareness campaign your prize and influencer budgets should be less than the returned media value. One way to predict the media value is to determine how many impressions, followers, engagements, or whatever you are measuring and find an industry comparable to benchmark against. So, if you're expected to get 1 million impressions and the industry CPM is $3, you should expect to pay $3,000. Teams that have run ad campaigns in the past can calculate or retrieve their historical CPM rates from Facebook, Instagram, or other social management dashboards.
Posts
Often times, influencers have rate cards per post and packages that involve multiple media types/ formats. It's always best to start there and ask influencers what their rate card is. Use those rates as defaults when modeling and predicting outcomes because it might not even require negotiation. One really good way to negotiate price is to walk them through how your business operates and what price would be reasonable. Discount whatever you are thinking by 20% so you have room to negotiate up and make everyone happy. Most of the time, influencer rate cards aren't based on a backend business model, so it's important to educate and make them feel like they are apart of your process.
Key Metrics When Pricing Influencers
We've discussed key metrics when selecting influencers, but it's dually important to consider these metrics when determining financial outcomes. Here is a limited list of metrics to include in your financial model:
Sponsored Post %. If influencers are posting a lot of sponsored content and the sponsored post engagement is lower it could drastically affect your projections. It's a key metric that smart teams look at when projecting impact.
Demographics. If your influencer has 30K followers, has a 5% engagement rate and 50% of their audience is American (and your store is only shipping to the US) your effective model should project ~8 qualified buyers assuming a 1% purchase rate on engagement.
Follower Growth %. If your partners are growing rapidly you could get a lot of earned media for your advertisement. Often times, influencers don't know how fast they are growing compared to others and it's a helpful resource when planning.
Bots. Of course, always check fake engagement and followers when planning to work with influencers.
Mixed Media Model
Sophisticated teams have mixed media models outlining their spend across all channels. If you're looking to beef up your marketing analytics team, we would suggest getting familiar with dynamic models such as the ones outlined in this 2014 report by Nielsen. Mixed media models benefit influencer marketing because it incorporates compounding marketing effectiveness across all of your touchpoints.
Final Takeaways
Build a lifetime value model (LTV) and then derive a customer acquisition cost
Help influencers understand your business model and what success looks like before talking about price
Treat the partnership process like a sales opportunity
Determine if you are comfortable paying on an affiliate basis, fixed payment, products/ gifts, hourly rate, licensing deal, or a combination thereof.
Think about what type of relationship are you trying to foster
Treat influencers fairly. Creators talk amongst themselves and you should be careful with nickel and dining them.
Associate all of your planning with a quantitative model. Even if you are making assumptions, it's better to have something to benchmark against.
Plan to build strong relationships with a handful of creators. Building trust will lead to more organic relationships and trust among friends in the influencer community.
We're planning on sharing some of our mixed media models and predictions with the wider community in the future. If that's something you would be interested in, send us an email at info@dovetale.com.