At Dovetale our focus has been on empowering the middle class of the internet. In the past year, we have come a long way and we are excited to share the latest milestone in our journey.
Today, we're announcing our seed round and bringing our new Shopify App out of beta. We're excited to be partnering once again with the incredible team at Expa to help us re-envision the principles and practices in which creators and ecommerce brands engage with each other.
The Internet's Middle Class
When we started Dovetale in 2016 the creator economy looked a lot different than it does today. We believe that there are two massive tailwinds that impact creators on the internet and specifically the middle class moving forward — ecommerce and content. Tools like Shopify have made it possible for anyone to become an entrepreneur, while social networks have made it possible for anyone to build an audience. We're witnessing a time in history where every faction of entrepreneurship is becoming democratized, however, there is a growing divide between the number of low and high-income creators. This barbell economy on the internet is our main challenge and we believe that the union of ecommerce and social media can bring balance.
Introducing Community
If you're a digital marketer it's nearly impossible to do your job without hearing something about micro-influencers, celebrities, customer advocacy, endorsements, sponsorships, ambassadors, affiliates, or super fans. The nomenclature around influencer marketing is a result of the confusion and desperation to lower customer acquisition costs. That being said, we're at a unique moment in time to bring down these costs for merchants while also providing opportunities to creators.
Today, after 3 months in public beta, we're releasing Community — exclusively for Shopify merchants. Community helps merchants recruit, manage and grow sales with people who love their products. While some would categorize us as an influencer marketing platform or affiliate marketing tool, we're intentionally separating ourselves from this by building a true Community tool where brands and people can engage with each other while also earning together. In 2021, Dovetale has grown revenue 100% month over month, onboarded over 20,000 creators with some making as much as ~$10,000, and top brands earning over $250,000 in sales via their community on Dovetale.
From our early observations, an ideal brand community is somewhere between Dunbar's number (150) and 1,000 true fans. In contrast to a Facebook or Instagram fan page, Dovetale communities are different, focused, utilities, and complimentary. We imagine each brand as an individual micro-economy where roles are specialized and members know how to contribute. "Great communities are aligned around value and values," - h/t Erik Torenberg.
Value: members get some utility that helps them solve a core problem.
Values: members build their identity around a common mission or interest and bond w/ others who share it
We believe the time is now to go to market because the NPS across the tools available to merchants is extremely low, and costs of digital marketing tools are misaligned with merchant goals.
Next Generation Ecommerce Are Growing With Dovetale
Before Dovetale, creating a private, application-based community was expensive. Only well-funded brands like lululemon (lululemon collective), Sephora (Sephora Squad), and BestBuy (Tech Insiders) would be able to make these types of investments. Just like Shopify lowered the barrier to entry for entrepreneurship, Dovetale is lowering the barrier to entry for community development.
We've seen so many amazing Communities formed over the last 3 months, like Terez's Joy Team that focuses on positivity and delivering happiness to those around you or Wandering Bear's Community of coffee lovers at NYU. It's incredible to witness true brand advocacy and collaboration where all of the incentives are aligned. Our tools have brought these relationships out of spreadsheets and into a dynamic work operating system.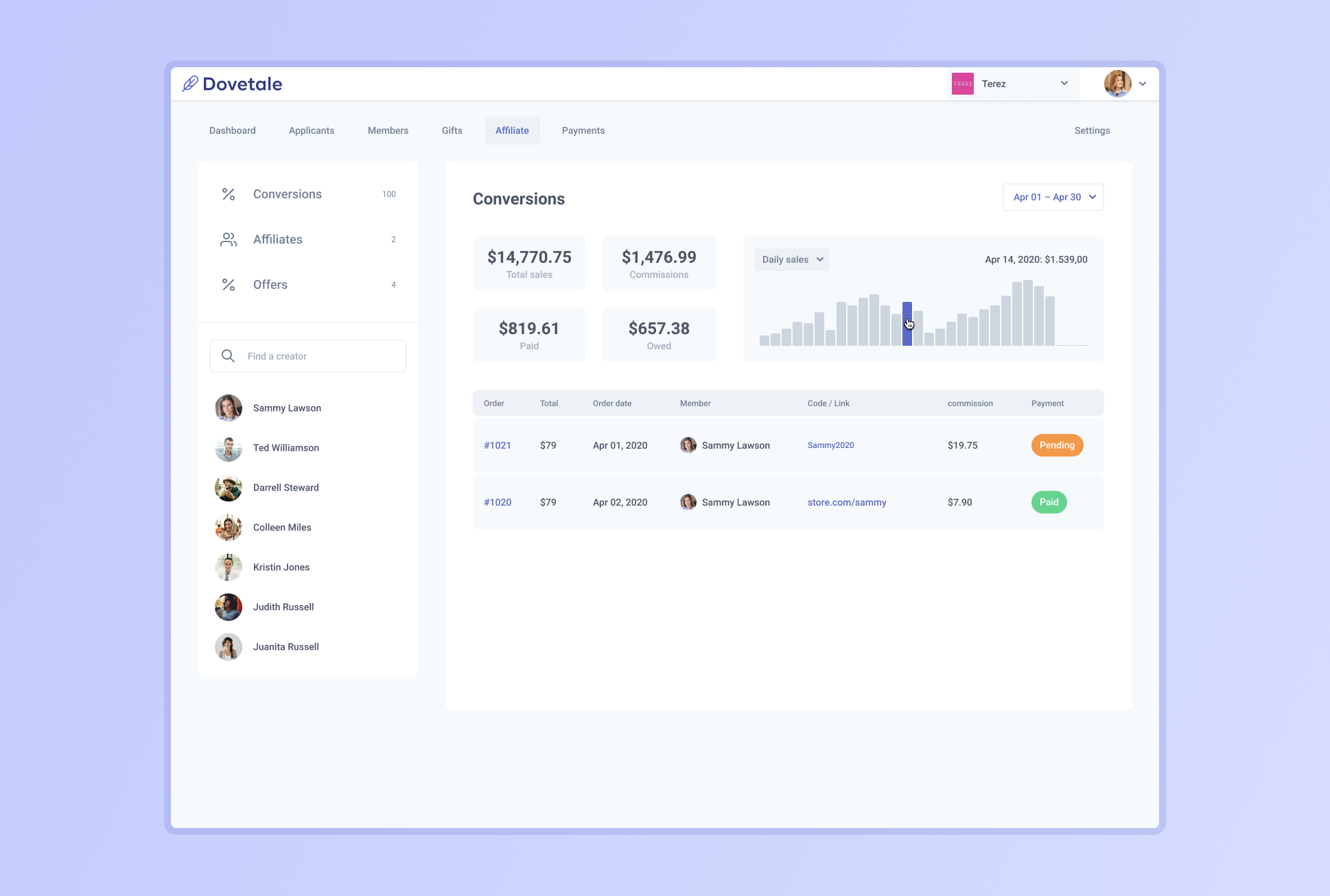 Partnering with Expa Capital
Following our progress, to accelerate our growth we've partnered again with Expa Capital. The Expa team is the perfect combination of creator economy product and growth experts that we believe will bring us to the next level. They understand our goals, timing, vision and have supported us throughout our multi-year journey. Funding will primarily be used to help Shopify merchants and creators succeed at scale.
Looking Ahead
We started Dovetale with the simple problem: working with people that love your brand is becoming increasingly complicated. The current approach is to layer more processes and cumbersome tools. We want to see a world where we unwind all of this by providing best practices and tools that fit the new relationships between e-commerce merchants and their most avid supporters.
We're grateful for all of the support we have received from our customers, partners, and investors. Thank you to our early supporters, the Shopify team, our team, and most importantly our customers. Let's make community feel magical again.